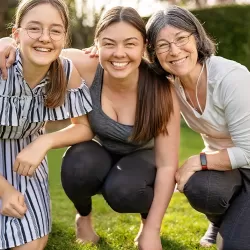 Every woman knows that finding the right OB/GYN is one of the most important decisions of her life. Trust your OB/GYN care to one of the area's most experienced providers. Dr. Daum, M.D. offers a superior level of obstetrical and gynecological services for women at every stage of life. 
Everything we do is centered on you. Your health and well-being as a woman are our primary concern, and as partners with you and your health care team, we can offer you the latest and best practice OB/GYN care available.
Dr. Daum, M.D., Obstetrics and Gynecology provides a broad range of primary care and specialty services for women of all ages, including general wellness care, surgical intervention, and family planning services.
Comprehensive Healthcare for Women
At Mansfield Miracles, we offer a full range of annual well woman exams and comprehensive family planning services. We specialize in the diagnosis and treatment of abnormal uterine bleeding, fibroids, chronic pelvic pain, endometriosis, interstitial cystitis, urinary incontinence, and pelvic prolapse. 
For the health of you and your baby, we offer an early pregnancy assessment program and we can perform onsite antenatal testing, including amniocentesis, and Level 2 ultrasound. If you are facing a high risk pregnancy you will receive the highest level of care.
Dr. Paul Daum, M.D. is able to provide patients with an exceptional level of health care while maintaining a gentle, compassionate manner within a calm, comfy environment.